The Energy Dispatch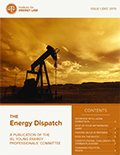 Inside the Latest Issue:
Interview of Professor Joe Dancy
YEP Member Highlight - Louis "Louie" Layrisson
Let's Talk about It Now, So HR Doesn't Talk to You about It Later
Local Content in Ghana: an effective implementation?
General Maritime Law Punitive Damages – More Than Just a Maritime Issue
Offshore Regulatory Update: A Busy May for the Department of Interior's Bureau of Safety and Environmental Enforcement
Leadership Class Highlights – Part 2
The Energy Dispatch, the IEL's Young Energy Professional newsletter, contains substantive articles on trending legal issues in the energy industry. The publication is managed by the YEP Newsletter Subcommittee, with the editorial responsibilities rotating to a different member each issue.
Issue Editor
Publications Co-Chairs
Eric Camp
Erin Potter Sullenger
Kelly Ransom
Newsletter Subcommittee Members
Joe Castelli
Tod Everage
Anna Gryska
Miles Indest
Marcella Lunn
Charles Nixon
Brittany Salup
Aditi Suresh
To submit an article for the next issue,
contact Vickie Adams at vadams@cailaw.org.
The Energy Dispatch Archive