The Energy Dispatch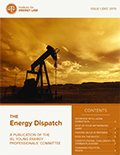 Inside the Latest Issue:
Interview with Laura Robertson

YEP Member Highlight: Featuring Christopher M. Hogan

Step Up Your Networking Game: Tools to get the most out of your next conference

Finding Value in Mistakes When the Value is Not Immediately Apparent: Adding Arrows to Your Quiver

Eyes on the Bayou: The Future of Offshore Regulation Begins in Louisiana

Constitutional Challenges to Corban Flounder: The Ohio High Court Decision Remains Intact One Year Later

Changing Political Winds Invite Citizen EnforcementSidley Austin LLP reports on the status of North American Energy Standards Board ("NAESB") efforts to adopt a "Mexican Addendum" to the NAESB Base Contract
The Energy Dispatch, the IEL's Young Energy Professional newsletter, contains substantive articles on trending legal issues in the energy industry. The publication is managed by the YEP Newsletter Subcommittee, with the editorial responsibilities rotating to a different member each issue.
Issue Editor
Newsletter Subcommittee Members
Tod Everage
Miles Indest
Liz Och
Ashley Hallene
Lucas Liben
Brett Podkanowicz
Erin Potter Sullenger
To submit an article for the next issue,
contact Vickie Adams at vadams@cailaw.org.
The Energy Dispatch Archive