The Energy Dispatch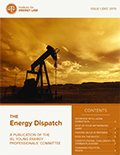 Inside the Latest Issue:
Inaugural IEL Leadership Class Kicks Off
A Converation about the Deepwater Horizon Litigation and Advice for Litigators
See Each Other: What I Learned During My Secondment
YEP Member Highlight: Jennifer Mosley
Tips for Young Energy Professionals
Drafting Enforceable Non-Competes in the Energy Industry
Circuit Split Points to Potential Supreme Court Case on Discharges
The Rapid Pace of Change in Environmental Regulation Continues in Colorado
The Energy Dispatch, the IEL's Young Energy Professional newsletter, contains substantive articles on trending legal issues in the energy industry. The publication is managed by the YEP Newsletter Subcommittee, with the editorial responsibilities rotating to a different member each issue.
Issue Editor
Publications Co-Chairs
Ashley Hallene
Erin Potter Sullenger
Newsletter Subcommittee Members
To submit an article for the next issue,
contact Vickie Adams at vadams@cailaw.org.
The Energy Dispatch Archive