The Energy Dispatch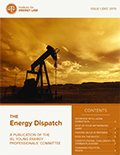 Inside the Latest Issue:
IEL Announces Inaugural Leadership Class
Interview with T. Lane Wilson
YEP Member Highlight: Nadège A. Assalé
A Simple Three-Step Approach to Professional Development
Ready! Fire! Aim! Two Drafting Traps to Avoid in Papering a "Rush" Deal
Pennsylvania Superior Court Weighs in on Subsurface Trespass
Understanding Similarities and Differences in Four Oilfield Anti-Indemnity Acts
The Energy Dispatch, the IEL's Young Energy Professional newsletter, contains substantive articles on trending legal issues in the energy industry. The publication is managed by the YEP Newsletter Subcommittee, with the editorial responsibilities rotating to a different member each issue.
Issue Editor
Publications Co-Chairs
Ashley Hallene
Erin Potter Sullenger
Newsletter Subcommittee Members
Tod Everage
Miles Indest
Lucas Liben
To submit an article for the next issue,
contact Vickie Adams at vadams@cailaw.org.
The Energy Dispatch Archive