The Energy Dispatch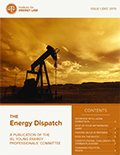 Inside the Latest Issue:
A Letter from the New Chair
Your Real Legal Education Starts After You Graduate
The Introvert's Guide to Networking
How Justice Scalia's One-stroke Commonality Analysis Impacts Royalty Underpayment Class Litigation in Oklahoma State Courts
Majority Rule: Natural Gas Companies May Seek Immediate Access to Begin Construction
The Road Less Traveled: Using Nontraditional Experts in Complex Hydraulic Fracturing Cases
Leadership Class Highlights – Part 1
The Energy Dispatch, the IEL's Young Energy Professional newsletter, contains substantive articles on trending legal issues in the energy industry. The publication is managed by the YEP Newsletter Subcommittee, with the editorial responsibilities rotating to a different member each issue.
Issue Editor
Publications Co-Chairs
Ashley Hallene
Erin Potter Sullenger
Newsletter Subcommittee Members
Joe Castelli
Tod Everage
Anna Gryska
Miles Indest
Lucas Liben
Marcella Lunn
Charles Nixon
Kelly Ransom
Brittany Salup
Aditi Suresh
To submit an article for the next issue,
contact Vickie Adams at vadams@cailaw.org.
The Energy Dispatch Archive