Oil & Gas E-Report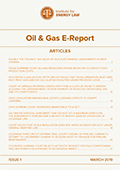 Inside the Latest Issue:
Lessee Under Unrecorded Farm Lease in Louisiana Had No Tort Claim Against Mineral Lessee for Crop Damages
Recent Legislative Developments in Louisiana
Non-Operator Working Interest Owner was Liable to Operator for Proportionate Share of Costs to Plug and Abandon Well on the Outer Continental Shelf
The United States Court of Appeals for the Sixth Circuit Finds No Subsurface Trespass in Context of Natural Gas Storage Operations
United States Supreme Court Defers Decision to Allow for Additional Briefing and Oral Arguments in Pending Challenge to Tenth Circuit Court of Appeals Decision on Whether Congress Ever "Disestablished" the Muscogee (Creek) Nation Reservation
Tenth Circuit Court of Appeals Affirms District Court's Finding of Trespass by Pipeline Owner Who Continued to Operate Pipeline After Expiration of its Limited Term Easement, but Reverses the Permanent Injunction Below Based Upon the Standard Applied in Granting the Injunction
Where a Consent-to-Assign Clause Did Not Provide a Standard for Refusing to Approve an Assignment, the Texas Supreme Court Refused to Read a Reasonableness Standard
Never Trust Your Cotenants – Ouster in West Virginia
Under Facts of Case, an Operator Could Not Use the Surface of a Tract in West Virginia to Support the Production of Minerals from Another Tract, Notwithstanding the Mineral Estate Owner's Grant of Pooling Authority to Oil and Gas Lessee
Fifth Circuit: Class Arbitrability is a Gateway Issue Closed to Arbitral Decision by a Class Arbitration Bar
EPA Releases Draft Oil & Gas Wastewater Management Study
The Oil & Gas E-Report is a quarterly newsletter that began in 2018. It contains articles of current interest to oil and gas practitioners and is assembled by a geographically diverse group of editors from private practice, in-house, and academia. This e-publication is the successor to IEL's print publication, the Oil and Gas Reporter, which was published from 1952-2017.
Editorial Board
IEL E-Communications Committee Chair
Steven P. Otillar, White & Case LLP
Editor-in-Chief
Keith B. Hall, LSU Paul M. Hebert Law Center
Editors
Kevin C. Abbott, Reed Smith LLP
Michael B. Bennett, Eversheds Sutherland
Bradford Berge, Holland & Hart LLP
Tim Brown, Anadarko
Mark D. Christiansen, Edinger Leonard & Blakley PLLC
Earl DeBrine, Jr., Modrall Sperling
Sharon O. Flanery, Steptoe & Johnson PLLC
Jana Grauberger, Liskow & Lewis
Aimee W. Hebert, Kelly Hart & Pitre
John T. Kalmbach, Cook, Yancey, King & Galloway
Kenneth Klemm, Baker, Donelson, Bearman, Caldwell & Berkowitz, PC
Michael P. Lennon, Jr., Mayer Brown LLP
Daniel M. McClure, Norton Rose Fulbright US LLP
John W. Morrison, Crowley Fleck PLLP
Jennifer Walter Mosley, Chevron
Barclay Nicholson, Norton Rose Fulbright US LLP
Scott A. O'Connor, Gordon, Arata, Montgomery, Barnett, McCollam, Duplantis & Eagan, LLC
Patrick S. Ottinger, Ottinger Hebert, L.L.C.
Joseph K. Reinhart, Babst Calland
Bruce F. Rudoy, Babst Calland
Gregory D. Russell, Vorys, Sater, Seymour and Pease LLP
Frédéric (Freddy) Sourgens, Washburn University School of Law
Michael K. Vennum, Vorys, Sater, Seymour and Pease LLP
Please forward any comments, submissions, or suggestions to any of the IEL's Associate Director,
Vickie Adams at vadams@cailaw.org.