Oil & Gas E-Report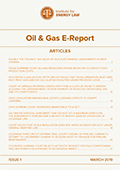 Inside the Latest Issue:
U.S. Supreme Court Holds California Wage-and-Hour Law Inapplicable to Offshore Workers Under OCSLA
Lamps: Dimming the Lights on Class Arbitration
Court Holds that President Cannot Revoke a Prior Executive Order Withdrawing Certain Offshore Areas from Mineral Leasing
A New Well Control Rule for OCS Operations
Colorado Enacts Sweeping Regulatory Changes to Oil and Gas Industry
Louisiana Appellate Court Upholds Grant of Coastal Use Permit for Crude Oil Pipeline
Louisiana Appellate Court Upholds Sufficiency of Omnibus Description
Unleased Owner Not Responsible for Post-Production Costs
Ohio's Seventh Appellate District Addresses Lease Continuous Drilling Operations Clause
Tenth Circuit Court of Appeals Affirms Decision of the United States District Court for the Western District of Oklahoma Certifying a Modified Royalty Owner Class
Owner of Executive Rights Breached Duty under Texas Law by Refusing to Grant Lease
The Oil & Gas E-Report is a quarterly newsletter that began in 2018. It contains articles of current interest to oil and gas practitioners and is assembled by a geographically diverse group of editors from private practice, in-house, and academia. This e-publication is the successor to IEL's print publication, the Oil and Gas Reporter, which was published from 1952-2017.
Editorial Board
IEL E-Communications Committee Chair
Steven P. Otillar, White & Case LLP
Editor-in-Chief
Keith B. Hall, LSU Paul M. Hebert Law Center
Editors
Kevin C. Abbott, Reed Smith LLP
Michael B. Bennett, Eversheds Sutherland
Bradford Berge, Holland & Hart LLP
Tim Brown, Anadarko
Mark D. Christiansen, Edinger Leonard & Blakley PLLC
Earl DeBrine, Jr., Modrall Sperling
Sharon O. Flanery, Steptoe & Johnson PLLC
Jana Grauberger, Liskow & Lewis
Aimee W. Hebert, Kelly Hart & Pitre
John T. Kalmbach, Cook, Yancey, King & Galloway
Kenneth Klemm, Baker, Donelson, Bearman, Caldwell & Berkowitz, PC
Michael P. Lennon, Jr., Mayer Brown LLP
Daniel M. McClure, Norton Rose Fulbright US LLP
John W. Morrison, Crowley Fleck PLLP
Jennifer Walter Mosley, Chevron
Barclay Nicholson, Norton Rose Fulbright US LLP
Scott A. O'Connor, Gordon Arata Montgomery Barnett
Patrick S. Ottinger, Ottinger Hebert, L.L.C.
Joseph K. Reinhart, Babst Calland
Bruce F. Rudoy, Babst Calland
Gregory D. Russell, Vorys, Sater, Seymour and Pease LLP
Frédéric (Freddy) Sourgens, Washburn University School of Law
Michael K. Vennum, Vorys, Sater, Seymour and Pease LLP
Please forward any comments, submissions, or suggestions to any of the IEL's Associate Director,
Vickie Adams at vadams@cailaw.org.