Oil & Gas E-Report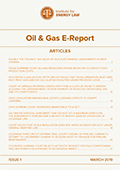 Inside the Latest Issue:
Double the Trouble: Tax Sales of Duplicate Mineral Assessments in West Virginia
Texas Supreme Court Allows Producers Paying Royalties to Deduct Post-Production Costs
In Putative Class Action, Fifth Circuit holds that Texas Operators Must Seek Best Price Available in Calculating Royalties Under Proceeds Lease
Court of Appeals Reverses Order Certifying a Class of Royalty Owners Alleging the Underpayment or Non-Payment of Royalties on Natural Gas and its Constituents
Ohio Legislature amends Real Estate Licensing Statute to Exempt Landmen
Ohio Supreme Court Addresses Marketable Title Act
Saltwater Disposal Agreement that did not set a Maximum Length on the Agreement's Term became a Month-to-Month Lease by Operation of Louisiana Law
Court holds that OCSLA regulation does not serve as basis for duty under general maritime law
Louisiana Third Circuit Affirms Trial Court's Denial of Pipeline Company's Attempt to use Eminent Domain to Acquire Right-of-Passage for Pipeline Maintenance
Colorado Supreme Court Rejects Activists' Request for Rule Conditioning Drilling Permits on a Finding of No Adverse Impact
The Oil & Gas E-Report is a quarterly newsletter that began in 2018. It contains articles of current interest to oil and gas practitioners and is assembled by a geographically diverse group of editors from private practice, in-house, and academia. This e-publication is the successor to IEL's print publication, the Oil and Gas Reporter, which was published from 1952-2017.
Editorial Board
IEL E-Communications Committee Chair
Steven P. Otillar, White & Case LLP
Editor-in-Chief
Keith B. Hall, LSU Paul M. Hebert Law Center
Editors
Kevin C. Abbott, Reed Smith LLP
Michael B. Bennett, Eversheds Sutherland
Bradford Berge, Holland & Hart LLP
Tim Brown, Anadarko
Mark D. Christiansen, Edinger Leonard & Blakley PLLC
Earl DeBrine, Jr., Modrall Sperling
Sharon O. Flanery, Steptoe & Johnson PLLC
Jana Grauberger, Liskow & Lewis
Aimee W. Hebert, Kelly Hart & Pitre
John T. Kalmbach, Cook, Yancey, King & Galloway
Kenneth Klemm, Baker, Donelson, Bearman, Caldwell & Berkowitz, PC
Michael P. Lennon, Jr., Mayer Brown LLP
Daniel M. McClure, Norton Rose Fulbright US LLP
John W. Morrison, Crowley Fleck PLLP
Jennifer Walter Mosley, Chevron
Barclay Nicholson, Norton Rose Fulbright US LLP
Scott A. O'Connor, Gordon Arata Montgomery Barnett
Patrick S. Ottinger, Ottinger Hebert, L.L.C.
Joseph K. Reinhart, Babst Calland
Bruce F. Rudoy, Babst Calland
Gregory D. Russell, Vorys, Sater, Seymour and Pease LLP
Frédéric (Freddy) Sourgens, Washburn University School of Law
Michael K. Vennum, Vorys, Sater, Seymour and Pease LLP
Please forward any comments, submissions, or suggestions to any of the IEL's Associate Director,
Vickie Adams at vadams@cailaw.org.