News and Notes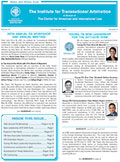 Inside the Latest Issue:
Young ITA Announces its Chairs
Chair's Report
#Young ITA Talks Houston
Experts in the News
Corruption in Arbitration
Conferences and Events in 2018
Scoreboard of Treaty Adherence
ITA Community
Download the latest edition (pdf)
News and Notes is the ITA members' newsletter, and consists of short articles of interest and news about members. It also contains the Scoreboard of Adherence to Transnational Arbitration Treaties, a comprehensive table showing the adherence by countries around the world to the various foundation treaties of international arbitration.
News and Notes is edited by Wade Coriell, and prospective articles can be submitted to him at wcoriell@kslaw.com.
Editorial Board

Wade Coriell
Editor, News and Notes, Institute for Transnational Arbitration
Partner
King & Spalding LLP, Singapore

Hansel T. Pham
Associate Editor
White & Case, Washington, D.C.

Elina Mereminskaya
Americas Initiative Committee representative
Wagemann & Cia., Santiago

Montserrat Manzano
Young Arbitrators Initiative Committee representative
Von Wobeser Y Sierra, Mexico City

David B. Winn
Director, ITA
Vice President, The Center for American and International Law, Dallas