World Arbitration and Mediation Review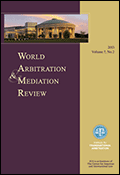 Articles, commentaries and case notes of high quality addressing current issues in international arbitration and mediation. It is published four times each year under editors-in-chief Doak Bishop, Professor Andrea Bjorklund and Dietmar Prager, the managing editor Rafael Boza, and a distinguished editorial board. All members of ITA receive a free subscription to the journal.
Connect with WAMR on LinkedIn
Connect with WAMR on Facebook
Table of Contents
Manuscript Submissions
Manuscripts for consideration should be submitted to the managing editor at rafaelboza@gmail.com.
Download and print the WAMR's style sheet (pdf)

Subscription Information
Become an ITA member to receive your FREE subscription.
To subscribe to WAMR without becoming an ITA member:
Click here to order a print subscription,
Click here to order an online or online + print subscription, or